PRODUCTS & SERVICES:
In-depth services
India Specific services
Free Services
Ashttottara Shatanaamani - for various deities
CHANNELS:
Yearly Forecast 2014
YOGABHYASA:
ABOUT ME:
MY LIBRARY:
Useful mantras in Indian languages
ARTICLES:
Matching of horoscopes -Part I
MANTRAS AND KAVACHA FOR BUDHA IN HINDI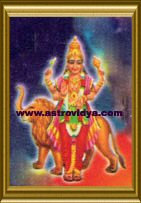 Mercury, known as Budha represents 'buddhi' - intelligence, whereas the Moon (Chandra) signifies the innocent mind. Mercury is a karaka or indicator of intelligence, commerce, education, writing, books, humor, scholars, orators, lawyers and consultants. Budha closely follows Sun (Ravi) – either he is ahead or rising behind Ravi. Budhaditya yoga, for that reason is found in many charts. This is also known as Nipuna yoga. Budha gives proficiency (Nipunata) in many subjects. It is up to the native how he would use such talents. He can become a successful detective or choose to be a thief! Due to this Budha is not classified as malefic or a benefic. He takes the attitude of his associates. He gives wit and a flavor for jokes. Intellect is born out of imagination and wisdom, that is the meaning of the story that Moon representing imagination abducting Tara, wife of Guru (Jupiter). Budha hates Chandra which means the evaluated intelligence overthrows innocence and imagination. The successful critics can not become creative writers! Budha when afflicted or badly placed causes mental problems, skin diseases and misunderstandings with relatives. Propitiation measures to Budha gives high intelligence, fast reading skills and cools down mental anxiety.
Listen to Budha Namaskara, Peedahara, Gayatri and beeja mantras
Listen to Budha kavacha
GRAHA MANTRA S WITH MP3:
ARTICLES:
Significance of Purusha Sukta with script & mp3
Is astrology sanctioned in scriptures?
Idolatry
Outer planets and vedic astrologers