PRODUCTS & SERVICES:
In-depth services
India Specific services
Free Services
Ashttottara Shatanaamani - for various deities
CHANNELS:
Yearly Forecast 2014
YOGABHYASA:
ABOUT ME:
MY LIBRARY:
Useful mantras in Indian languages
ARTICLES:
Matching of horoscopes -Part I
MANTRAS AND KAVACHA FOR GURU IN HINDI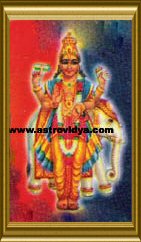 The planet Jupiter is known as Guru or Brihaspati. He is putra karaka (the significater) of children. Guru ill placed would cause problems related to children as well as delay in child birth. He governs digestive juices and affliction to guru will cause jaundice. He bestows vidya (wisdom) which is essential to understand any subject in depth. He is revered as the teacher of all Gods. He is the dispenser of divine justice. No other planet hates Jupiter as he himself is Providence. He gives good manners, patience and devotion. Many of the problems in life are successfully combated if Jupiter is strong in the chart. The remedial measures to Guru are easy to perform. Even if there are lapses in the process (Anustana), being kind-hearted, he does not mind. Regular recitation of guru will give a firm support from the Almighty and reduce the problems in life. Remedial measures to guru are at most important for begetting children as well as to gain in-depth knowledge.
Listen to Guru namaskara, peedahara, gayatri & beejamantra s
Listen to Guru Kavacha
GRAHA MANTRA S WITH MP3:
Mantra s for Budha
ARTICLES:
Significance of Purusha Sukta with script & mp3
Is astrology sanctioned in scriptures?
Idolatry
Outer planets and vedic astrologers