PRODUCTS & SERVICES:
In-depth services
India Specific services
Free Services
Ashttottara Shatanaamani - for various deities
CHANNELS:
Yearly Forecast 2015
YOGABHYASA:
ABOUT ME:
MY LIBRARY:
Useful mantras in Indian languages
ARTICLES:
Matching of horoscopes -Part I
MANTRAS AND KAVACHA FOR KUJA IN MALAYALAM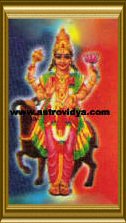 Mars, known as Mangal, Angaraka, Kuja and Chavai is the Commander in the planetary cabinet. He is the war lord. Mangal means the auspicious one. Angaraka is the one who is like burning coal. Kuja is the significator of brothers or sisters, aggressive attitude, war, sports, martial arts, analytical subjects like math, statistics, engineering. He also indicates loans, diseases that look violent particularly of nerves, liabilities and violence. He is the significator of vehicles and communication skills. Mars is known as "bhumi putra" (Son of Earth). Latest pictures taken of the surface of mars suggest similarities between Earth and Mars. Regular prayer to Mars to frees one from loans, poverty, sickness that effect brain. It gives immense courage and also gives communication skills. Kuja in certain placement causes 'kuja dosha' (Defects caused by mars), as he predisposes the native towards harshness. The role of kuja depends on individual charts – harshness for a policeman may be a gift but for a professor it may be a curse!
Listen to Kuja namaskara, peedahara, gayatri & beeja mantras
Listen to Kuja kavacha
GRAHA MANTRA S WITH MP3:
ARTICLES:
Significance of Purusha Sukta with script & mp3
Is astrology sanctioned in scriptures?
Idolatry
Outer planets and vedic astrologers