PRODUCTS & SERVICES:
CHANNELS:
YOGABHYASA:
ABOUT ME:
MY LIBRARY:
Useful mantras in Indian languages
ARTICLES:
Matching of horoscopes -Part I
MANTRA S AND KAVACHA FOR SANI IN HINDI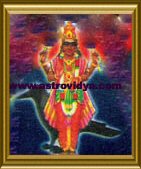 Saturn, Sani also known as Manda means slow. It also means to be full of forgiveness, tolerance and peace as in "shankara", "shanno danti prachodayat". Saturn indicates the solitaire life and spirituality. He signifies cold diseases, hard work, public office, political success and chronocity of any disease. Saturn is a karaka of anything slow - be it a disease, a long stay in the office. A well posited sani gives excellent longevity. Similarly, Sani would cause delay in the aspects of life he is associated. Sani is in-charge for bones and quality of blood. Adverse sani would cause fractures, dental problems and anemia. Remedial measures to sani will mainly reduce the delays, cure from cold and bone disorders and also reduce the adverse effects sani caused by his position, ownership and association in the chart.
Listen to:

Sani namaskara, peedahara, gayatri & beeja mantra s
Listen to: Sani kavacha
GRAHA MANTRA S WITH MP3:
ARTICLES:
Is astrology sanctioned in scriptures?
Idolatry
Outer planets and vedic astrologers