PRODUCTS & SERVICES:
In-depth services
India Specific services
Free Services
Ashttottara Shatanaamani - for various deities
CHANNELS:
Yearly Forecast 2014
YOGABHYASA:
ABOUT ME:
MY LIBRARY:
Useful mantras in Indian languages
ARTICLES:
Matching of horoscopes -Part I
MANTRAS AND KAVACHA FOR SHUKRA IN HINDI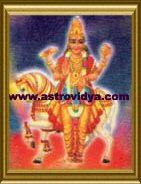 The planet Venus (Shukra) in a natural benefic planet like guru in Hindu astrology. Shukra means "bright" and "potency" in Sanskrit. Venus is the karaka of spouse, love, luxury, beauty, prosperity and fine arts. In Shukra, is known the teacher of Rakshasas. Guru (Jupiter) is the welfare minister while shukra is the cultural minister in the cabinet of the planets. The main concern of shukra will be to provide cultural development. A prominent shukra in the chart will give the native wealth, artful taste and proficiency in fine arts. An afflicted shukra would cause hormonal problems, glandular malfunctions like diabetes. Propitiation to shukra will bring about union in the estranged couple, will bestow wealth and gives the native orientation towards enjoyment of life.
Listen to shukra stotra, peedahara stotra, gayatri and beeja mantra s
Listen to: Shukra kavacha
GRAHA MANTRA S WITH MP3:
Mantra s for Budha
ARTICLES:
Significance of Purusha Sukta with script & mp3
Is astrology sanctioned in scriptures?
Idolatry
Outer planets and vedic astrologers